Due to its technical composition the insulating concrete ISOTHERMA® is commonly used as lightly insulating base layer for floors, but it can also be injected as filling material around a swimming pool.
With the usage of the insulating concrete ISOTHERMA® an additional floor insulation like polyurethane  is potentially no longer necessary. If an additional floor insulation is absolutely necessary according to the applicable regulations, it is possible to use a thinner layer as, for example,  EPS or XPS boards, what results in a significant reduction of material costs.
Another advantage is that the lightweight concrete ISOTHERMA® can directly be obtained from one of our intermediaries in a concrete mixer truck with pumping system. The intermediaries arrange the transportation and guarantee that the correct amount of water, which is necessary for a simple and quick processing, is directly added.
The heat-insulating lightweight concrete ISOTHERMA®  was tested by the laboratory «WILHELM LA PPE», which is a state-approved institution that has been specialized on material testing for more than 50 years.
Working process
Pretreatment of the underground
The underground has to be completely cleaned and thoroughly moistened.
Mixture
The insulating concrete ISOTHERMA® is ready to use, it is only necessary to add 17 to 18 liters of water per bag of 50 liters. The insulating concrete ISOTHERMA® can be mixed with a concrete mixer, a hand mixer, a plaster machine of the type G4 or a screed pump. There are no special skills required to apply the insulating concrete ISOTHERMA® onto the underground.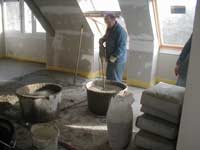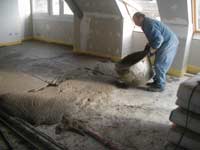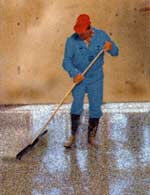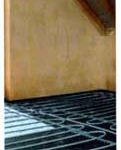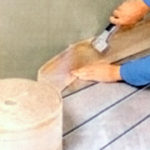 Application
The insulating concrete ISOTHERMA® has to be applied in a single uniform layer of 3 to 30 cm.
Drying time
After 24 to 48 hours (depending on outdoor temperature and relative humidity).
Maximum pressure resistance: 59 tonnes per m² after 28 days.
Consumption
1 bag with 50 liters of the insulating concrete ISOTHERMA® produces 1 m² with a thickness of 4,5 cm.